By Brad Harris
Aircraft pricing is a complex process that can seem mysterious to aircraft buyers and sellers. It can be particularly frustrating for those who don't work in the aircraft market daily.
There are many disparate pieces of information that factor into the aircraft pricing strategy. DJI has a uniquely thorough process that provides for more accurate and credible pricing. Our reputation for following a detailed process often avoids delays and surprises in the negotiation stage. Our first-hand, accurate information also ensures we have better control throughout the sales process.
The Pricing Procedure
This is the process DJI follows to obtain the best possible price for an aircraft we sell for a client:
We consult with the seller regarding his priorities, including timing required for the sale and any other factors.
We perform a very detailed history of the aircraft, including equipment, maintenance cycles, engine status and so on.
We go on site and take "amateur" digital photos, looking for specific technical details.
We engage a professional photographer to do more aesthetic photos that showcase the interior and exterior of the aircraft.
We analyze the logbooks and equipment documentation, compiling a complete history and marketing package.
We research specific major repairs and alterations (Form FAA 337) and STCs (Supplemental Type Certificates) that may be required for specific equipment.
After evaluating the specific aircraft on-site, we use the data and photos we have collected for market research. We look at every similar aircraft that has been sold in the previous 12 months for sold comparisons.
We subscribe to several services, which provide pricing data for recently sold aircraft of a similar type, age and condition. In addition to this reported data (these are the figures they call "comps" in the real estate industry) we call other brokers to determine the actual sales price and any other circumstances related to the sale.
For every aircraft we sell, someone on our team (Shawn Dinning, Ralph Crosby, or I) have personally touched the aircraft and reviewed the logbooks and records. Many times, those on-site, hands-on analysis provide great opportunities to tell the deeper story of an aircraft and find opportunities and factors that can showcase the real value of the aircraft.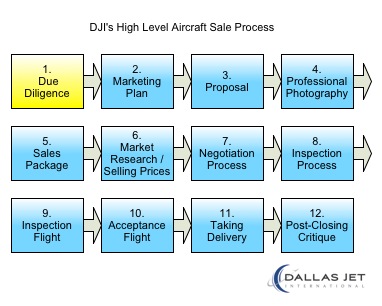 The Price is Often In the Details
In these comparisons, there are many apparently small factors that can have a large impact on pricing.
Some of these factors might include:
Serial number
Specific manufacture date
Amount of time an aircraft model has spent on the market
Number and nature of previous owners
Inspection dates
Aircraft usage (FAA Part 91 or Part 135 have different operational rules)
Where the aircraft is currently located
Where the aircraft has been flown
Where the galley is located
Where the lavatory is located, and if it's externally serviceable
Condition of external paint
Type and condition of the entertainment system
Avionics factors like a "heads up" display or synthetic vision
Cabin management system
Condition and type of Auxiliary Power Unit (APU)
The Client's Objectives
Of course, we share this data and our recommended pricing with our client, and work toward pricing that will balance their need for a timely sale with the objective of selling the aircraft for the highest legitimate price under the circumstances.
The Advantage of DJI's Pricing Procedure
Our use of this consistent, detailed process contributes substantially to DJI's credibility in the marketplace. Other professionals understand that what we say about an aircraft comes from our experience as pilots and aircraft owners, and from having personally seen the aircraft and verified the relevant facts.
We won't be surprised during negotiation with something we should have researched in our Due Diligence. We also won't be surprised by the revelation of market data. We can speak to the concerns of the buyers and the stakeholders on his team, whether they are pilots or mechanics, or legal or accounting professionals.
This offers our sellers significant peace of mind, knowing the transaction will take advantage of every favorable factor the circumstances provide.