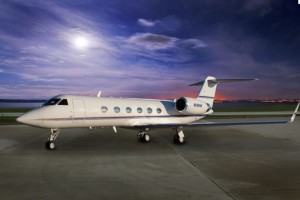 By Brad Harris, Dallas Jet International
Clients are often concerned that selling a jet in a "buyer's market" or a "bad time to sell" may not be profitable.
There are several things to consider when we look at sales of a particular aircraft at a particular time.  First of all, generalizations that the market is "good" or "bad" are usually just that, generalizations.   There are opportunities in every market. We never jump to conclusions about the timing or pricing without actually doing the research and coming up with well-thought-out plan.
Regardless of the general trends or feelings about the market, we follow a precise and methodical process.
Our prospective customers, especially those who have experience with us, know that we list good equipment that is priced properly.  That credibility is based on many years of following this precise and methodical process, rather than reacting to emotions inspired by the market.
When we are engaged to sell an aircraft, we travel to see it in person.
We look at all of the records.  We inspect the aircraft and verify the equipment installed. We look at the complete aircraft.   We look at where the aircraft has been historically based and review the records of  how and where it has been maintained.
Based on all of this information, and our experience as pilots and as representatives who have been trusted with the sale of hundreds of other aircraft, DJI provides an assessment and summary with specifications.
Establishing the Correct Price
We have an in-house research department.
The objective for the team is to determine where this particular aircraft fits into the current market. We look at historical "sold" data – what the aircraft was listed for, what price it actually sold for, how much time elapsed between the listing and the sale. Our team reaches out to all aircraft owners about their aircraft on or off  the market and determine what the asking price and "take" price would be.
Once we have all of the data, we talk with our client about what all that means and how we should price their aircraft.  We explain our recommendations and the reasons for them.
Obviously, the aircraft needs to compete in the market.   We create a pricing strategy that includes the fair market value for listing and for selling.
Marketing Your Aircraft
Once we have an agreement with our client about appropriate pricing, we begin professionally marketing the aircraft.
We engage a professional photographer to create images that will make the aircraft stand out from a potentially crowded market.  We create very professional documents and print advertisements for all of the usual outlets.  We list the aircraft in all of the appropriate directories.  We list it on our website, where we have the ability to really tell the story of each aircraft with text, images and documents.   We advertise the aircraft to our proprietary email list and use specific targeting technology. We also market the aircraft to all of the OEMs, corporations, current aircraft owners, broker/dealers, pilots, aviation managers, Directors of Maintenance and company owners who may want to purchase this aircraft for their fleet(s).
The more people we get the aircraft in front of, the more quickly we'll find the perfect opportunity to sell.
If you do the homework, selling a jet can be profitable, even in a "bad" market.
Regardless of the sometimes fickle market, we've proven over and over again that the secret of a profitable sale lies in getting the basics right.
Knowing the aircraft
Pricing appropriately
Marketing aggressively
In our years of experience, we've always found that if we do the homework, the aircraft will sell.
Of course, once we have an offer tendered, the hard work begins.  See our Anatomy of an Aircraft Sale for the details.
Brad Harris
Brad Harris is founder and CEO of Dallas Jet International. Mr. Harris holds a Bachelor of Science Degree in Professional Aviation and Airway Science and a Masters Degree in human resources from Louisiana Tech University. Mr. Harris entered the aviation industry in 1989 as a corporate pilot for a Fortune 500 corporation. In 1993, he started a successful aircraft leasing and renting company which expanded to a successful aircraft management company in 1995. In 1993, Mr. Harris began his aircraft sales career and, in a very rapid fashion, became one of the most highly respected aircraft brokers in the World. In 1998, Mr. Harris started an aircraft sales, consulting, and brokerage company that is known today as Dallas Jet International. Mr. Harris is a current airline transport pilot who is type-rated in ten (10) different jet aircraft including the Gulfstream 550, 450, 350, GV, GIV, GIII, GII, Hawker 125, Falcon 10, Citation 550/500, Beechjet 400, 400A, Lockheed Jetstar II, Diamond Jet and King Air 300/350. In the many different aircraft markets, Mr. Harris parlays extensive hands-on knowledge and experience into clear results for his clientele. In addition to Mr. Harris maintaining a career focus on aircraft sales, he also has extensive experience in aviation consulting and management. Included on his client list are several clients for whom Mr. Harris and his firm have set up flight departments, consisting of aircraft crewing, aircraft management, aircraft maintenance and aircraft operating budgets. He and the firm are currently managing a Gulfstream V, a Gulfstream IV, a Falcon 50, a Citation II, a Citation ISP, a Citation Mustang, a Hawker 400XP, and two King Air 350's.What most people do not know about Mr. Harris is that he possesses significant entrepreneurial experience in real estate and commercial insurance. This business experience, combined with his unparalleled experience in all facets of corporate aviation, has been the foundation of success for Dallas Jet International and its clients.