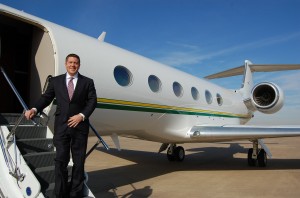 Selecting someone to guide you through an aircraft sale or purchase is an important decision.  Before you select the right aircraft sales specialist, you probably will ask several questions and evaluate the answers.
A reporter recently asked Brad these questions for an article. We thought they were good ones, so we'll start with these.
Question – How do customers in different countries have different expectations, or negotiate differently?
Brad Harris – This is a casual transaction for the American customer, who is often referred by another customer. We find that Americans use the Internet and the news media, and are quite astute about the aircraft before they call us. It's a very relationship driven transaction from that point forward. We spend as much time as needed educating the customer. When we look at the culture in the Middle East, Asia and Europe, all of those cultures are different. An excellent broker will understand those cultures. As an example, we have a particular customer in the Middle East who doesn't want to sign a document guaranteeing exclusive representation, but they give us their word that they will use us and they do. It's all about trust, time, and referrals from other clients.
Question –  How long does it take to buy or sell and airplane?

Brad Harris – Every client has a different situation. Every client has an ideal timeframe that suits his or her financial picture, business transportation needs, geography requirements, dependency on the sale of another aircraft, price requirements, flexibility, and so on. One person might need an aircraft immediately; in that situation we would shop for a retail aircraft. The objective is to buy the best aircraft at the best price you can find that's on the market now. That transaction usually includes one week of negotiations, one week for the pre-buy phase when we fix any discrepancies, and then we close in the third week. That said, we just closed a G-IV transaction within one week from start to finish, when we simply reviewed an inspection that had already been done. The longest transactions usually happen when a client has very particular requirements in terms of price or a particular aircraft. It could take several months to identify the ideal aircraft, and then several months again to wait for the right price opportunity.
Question – What are the most common problem that occurs in the transaction process?

Brad Harris – The most common problem is incorrect pricing. The market intelligence for price is very well defined. Of course we reference the Aircraft Bluebook and the VREF values but we also create a complete market summary with transactions over the last six to twelve months. With that information, we can price an aircraft very well. But if someone doesn't have good representation; they might get ideas from friends or pilots or other brokers that aren't factual and well-researched. They might overbuy, or buy something cheap. A buyer might not understand what's hidden behind a low price – damage history, missing records, a big inspection coming due, engines coming due. So it comes down to experience and knowledge and someone you can trust to represent you so that you don't get caught with those gremlins.
Question – Is it stressful to be in the aircraft sales business?

Brad Harris – The typical aircraft sales representative has a very good life. It's a very small community and we all tend to know each other and get along fairly well. I will tell you that it can be stressful at times. We have a passion for aviation and long-lasting relationships with our customers and clients, and our strongest suit is that we are problem solvers. To do that, you have to have quality people that are willing to put in the extra hours and the extra travel. We manage the entire transaction process from start to finish, so we have Dallas Jet employees on site for every inspection and for every test flight. We review the data, we understand the airplane, oversee the prebuy inspection, so of course there is a lot of travel. It is very helpful when a sales rep has a very supportive family that understands what you do and how you do it. That really helps manage the stress. In the end it's a great lifestyle and a great group of people.
Question –  How do you handle a customer whose heart is set on an unsuitable aircraft?
Brad Harris – About twenty to thirty percent of the time, clients come to us with an aircraft in mind. Part of our process is to define the need. We must know the requirements for that particular customer. What range are they flying? How long are they staying, so how much baggage space do they need? Are they operating in high and hot environments, mountainous terrain, or overseas? Once you put those requirements together, you can present the best aircraft for them. Even if they've come in with ideas from people they've talked with on the golf course or other casual business setting, we find that ninety nine percent of the time, they will listen to what we have to say. But it's ultimately their decision and we will help them buy the aircraft that they decide on.
Question –  Do buyers always expect a test flight, and how do you assess their seriousness?
Brad Harris – Buyers always expect (and should expect) a test flight. We typically arrange for the test flight to be from the home base of the aircraft to the maintenance facility where they're going to complete the prebuy inspection. We will not provide a test flight without a letter of intent or formal purchase agreement executed, with a refundable deposit in escrow. What that means is that if they reject the aircraft after the test flight, the buyer will pay for those costs.
What questions would you like to ask?
Brad Harris
Brad Harris is founder and CEO of Dallas Jet International. Mr. Harris holds a Bachelor of Science Degree in Professional Aviation and Airway Science and a Masters Degree in human resources from Louisiana Tech University. Mr. Harris entered the aviation industry in 1989 as a corporate pilot for a Fortune 500 corporation. In 1993, he started a successful aircraft leasing and renting company which expanded to a successful aircraft management company in 1995. In 1993, Mr. Harris began his aircraft sales career and, in a very rapid fashion, became one of the most highly respected aircraft brokers in the World. In 1998, Mr. Harris started an aircraft sales, consulting, and brokerage company that is known today as Dallas Jet International. Mr. Harris is a current airline transport pilot who is type-rated in ten (10) different jet aircraft including the Gulfstream 550, 450, 350, GV, GIV, GIII, GII, Hawker 125, Falcon 10, Citation 550/500, Beechjet 400, 400A, Lockheed Jetstar II, Diamond Jet and King Air 300/350. In the many different aircraft markets, Mr. Harris parlays extensive hands-on knowledge and experience into clear results for his clientele. In addition to Mr. Harris maintaining a career focus on aircraft sales, he also has extensive experience in aviation consulting and management. Included on his client list are several clients for whom Mr. Harris and his firm have set up flight departments, consisting of aircraft crewing, aircraft management, aircraft maintenance and aircraft operating budgets. He and the firm are currently managing a Gulfstream V, a Gulfstream IV, a Falcon 50, a Citation II, a Citation ISP, a Citation Mustang, a Hawker 400XP, and two King Air 350's.What most people do not know about Mr. Harris is that he possesses significant entrepreneurial experience in real estate and commercial insurance. This business experience, combined with his unparalleled experience in all facets of corporate aviation, has been the foundation of success for Dallas Jet International and its clients.