By Brad Harris
Aircraft Market Update – Dallas Jet International (DJI) is enjoying its best year of business since 2007, and apparently, we're not alone!
Business aviation leaders met at the JETNET iQ fourth annual Global Business Aviation Summit on June 3-4, 2014 at the W Hotel, in New York City. The theme of the conference was "Igniting Ideas. Provoking Change."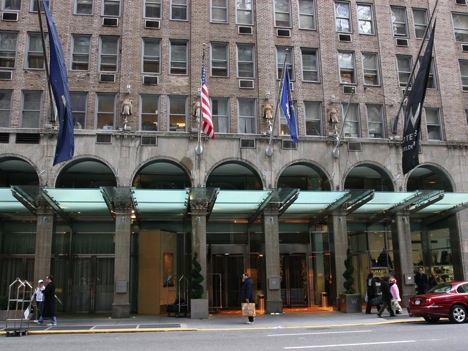 . . Summit speakers and panelists represented a virtual "Who's Who" of business aviation—
experts with unique perspectives on the industry's present and future:
analysts, bankers, brokers, wealth consultants, attorneys, sales and marketing leaders, and C-level executives.
When I spoke at the conference this year about the status of the business jet market, many heads in the audience were nodding in agreement. It seems that all of the major companies are active, all of our colleagues are very busy and have a lot of transactions in the works.
At Dallas Jet International (DJI,) we're finding that this is easily our best year since 2007.
DJI currently has the following list of transactions in process:
3 transactions pending
3 aircraft sales in the last 2 weeks
8 acquisitions in process
14 aircraft for sale
The market is largely positive and inventories are getting smaller. At the same time, we're still finding that pricing is stabilizing for newer aircraft, but can be sporadic or still declining, particularly for older and smaller aircraft.
A couple of specific bright spots –
Owners of Hawker 900 XP and Challenger 604 aircraft are finding that the value of their aircraft have appreciated 1 million in the last 90 days.
Values of Challenger 605s and Gulfstream V aircraft have continue to depreciate.
Total Aircraft Fleet Compared to Aircraft For Sale By Age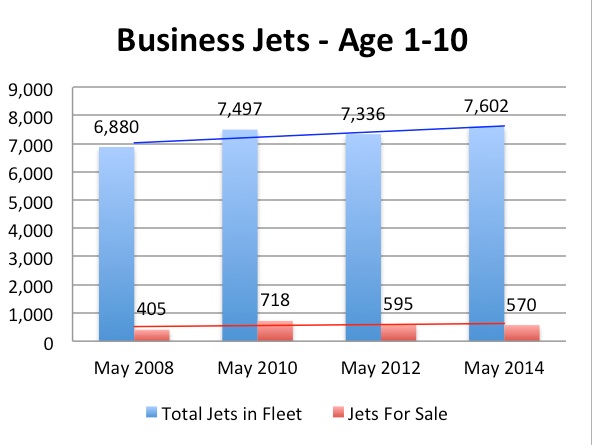 The market for the newest aircraft has been the most stable over time.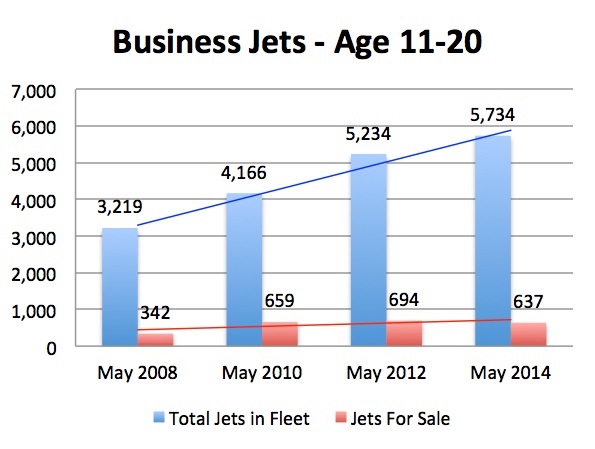 The market for 11-20 year old aircraft has grown significantly over the last four years, while the number of aircraft for sale in this category has stabilized.

Note– We consider 10% of aircraft on the market for sale as a "normal" market. While the total jets for sale (red line) is remaining stable, the total number of aircraft is growing slowly. The slow growth of the market is beginning to absorb excess inventory, but the number of jets for sale this year is still nearly twice what we would expect in a "normal" market. This excess inventory forces pricing for older aircraft to remain low.
Conclusion
Surplus inventory of the older aircraft is still causing prices to be somewhat depressed. Sales of average and newer aircraft are brisk. Prices for most aircraft remain stable. Values of a few specific models have appreciated dramatically.
Please note that the information in this article is general. Each aircraft transaction is unique, and a "successful transaction" depends on many factors, including the seller's objectives, the features and history of the aircraft, and the unique opportunities presented by specific buyers.
To discuss your particular aircraft and objectives, please give us a call at our office at 817-520-4009.