A Detailed Aircraft Purchase Process
We really take ownership of every transaction, and we take the fiduciary responsibility to protect our buyer's interests very seriously. We have developed a detailed process for an aircraft purchase to make sure we have all of the bases covered.
We have bought, sold, leased and managed many aircraft over the course of many years.  This experience has defined and added to the system we have developed to ensure that we represent our client's interests in the best possible way at every single step.
The Purchase Process
Each step in this diagram is actually a complete process in itself.  As an example, the Closing Process (Item 10) involves a 100-step checklist.
We'll outline the basics of these twelve steps in this article: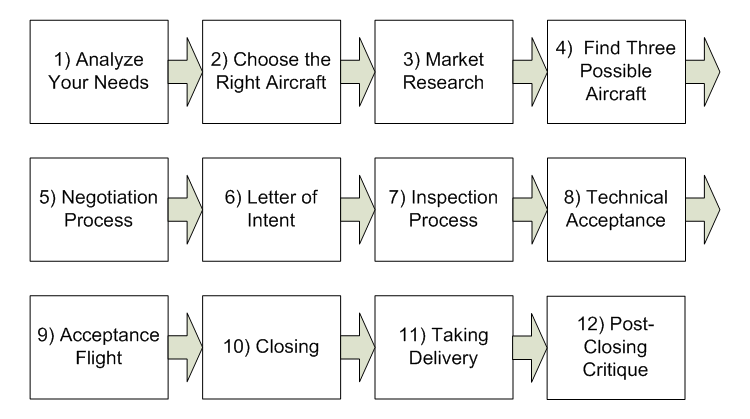 1)       Analyzing Your Needs
When a person calls us, we start by taking the time to be sure we understand their needs.  We take the time to understand your business and your travel needs to find the best solutions for you.
2)       Choosing the Right Aircraft
This is the longest part of the process, and is outlined in detail in Finding the Right Aircraft is More About People Than Planes. This is the step in which the client is the most involved.
Taking the time to ask the right questions, truly listen to the answers,  and to thoroughly understand our clients' needs is critical.
3)       Market Research
Of course we research the major sources of aircraft currently on the market, but we also have a wide network of relationships with dealers, brokers, manufacturers and fleet managers;  and are often aware of aircraft that are available before they formally become available "on the market."
4)       Finding Three Possible Aircraft
Of course every client has different needs and priorities. For some, speed is the most important factor, others are willing to wait for an opportunity that will get a specific aircraft or better financial terms.   We generally find three aircraft that meet the needs of our client.  This puts us in a strong negotiating position because if our first choice doesn't work out for any particular reason, we have already done the research and are prepared to begin negotiations on two others.
5)       Negotiation Process
The negotiation process can vary quite a bit depending on how sophisticated and motivated the seller is. Whatever the case may be, it is to the buyer's advantage to have an experienced, skillful representative representing your interests.
6)       Letter of Intent
We provide the Letter of Intent (LOI) as a conclusion to successful negotiations.  We ensure that all terms are clear and favorable, and recommend attorneys when needed to avoid issues.
7)       Inspection Process
We monitor the pre-buy inspection on site. Since we are type-rated pilots in most of the aircraft we buy and sell, we can really understand the issues reported.
We can help interpret the inspection results and say "this is a good airplane for your needs," or "this airplane is going to cause you problems for these reasons, so let's walk away."
8)       Technical Acceptance
When we have technical acceptance and our client has opened an escrow account prior to moving to a pre-purchase facility, we make sure the title searches are clear. We ensure that security interests on the aircraft are released, and all the documents are in order.
9)       Acceptance Flight
Next, we do a pre-delivery acceptance flight. We are onboard the aircraft for every flight in the sales process.
10)     Closing
We employ a 100-point closing checklist to ensure that no detail escapes our attention. Examples of the details that we track to conclusion include ensuring that  records are complete and correct, titles are clear, and liens are released.
11)     Taking Delivery
We're on site for delivery. We get the delivery receipts signed and other documentation needed. We verify proof the delivery was accepted at the correct location; and we ensure that all the paperwork details are in order, such as ensuring that the Application for Registration pink copies are on the airplane.
12)     Post-Closing Critique
We do a post-closing critique, and put all of the documentation together in a complete file for the client's transaction that is ready to keep in a safe place.
Summary
We take ownership of every transaction, and the fiduciary responsibility to protect our buyer's interests.
Our company's goal is to build relationships that last for a lifetime. We're market specialists, in the relationship business. Our objective is to provide a flawless experience so that you call us each time you have a need to buy, sell, lease or manage an aircraft.
About Brad Harris
Brad Harris is founder and CEO of Dallas Jet International. Mr. Harris holds a Bachelor of Science Degree in Professional Aviation and Airway Science and a Masters Degree in human resources from Louisiana Tech University. Mr. Harris entered the aviation industry in 1989 as a corporate pilot for a Fortune 500 corporation. In 1993, he started a successful aircraft leasing and renting company which expanded to a successful aircraft management company in 1995. In 1993, Mr. Harris began his aircraft sales career and, in a very rapid fashion, became one of the most highly respected aircraft brokers in the World. In 1998, Mr. Harris started an aircraft sales, consulting, and brokerage company that is known today as Dallas Jet International. Mr. Harris is a current airline transport pilot who is type-rated in ten (10) different jet aircraft including the Gulfstream 550, 450, 350, GV, GIV, GIII, GII, Hawker 125, Falcon 10, Citation 550/500, Beechjet 400, 400A, Lockheed Jetstar II, Diamond Jet and King Air 300/350. In the many different aircraft markets, Mr. Harris parlays extensive hands-on knowledge and experience into clear results for his clientele. In addition to Mr. Harris maintaining a career focus on aircraft sales, he also has extensive experience in aviation consulting and management. Included on his client list are several clients for whom Mr. Harris and his firm have set up flight departments, consisting of aircraft crewing, aircraft management, aircraft maintenance and aircraft operating budgets. He and the firm are currently managing a Gulfstream V, a Gulfstream IV, a Falcon 50, a Citation II, a Citation ISP, a Citation Mustang, a Hawker 400XP, and two King Air 350's.What most people do not know about Mr. Harris is that he possesses significant entrepreneurial experience in real estate and commercial insurance. This business experience, combined with his unparalleled experience in all facets of corporate aviation, has been the foundation of success for Dallas Jet International and its clients.