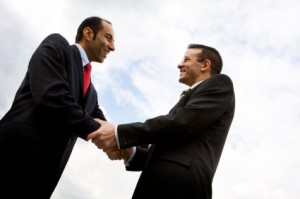 Technology provides many opportunities to save time and money.  Webinars and videoconferencing seem to be the order of the day.  However, at Dallas Jet International (DJI), we maintain an old-fashioned commitment to being physically present at critical stages of the jet sales transaction process.
Of course, we could economize and save a great deal of time and expense by relying on technology as a lot of brokers do.  We could simply ask the other party for information, documentation, photos and anything else that's needed and expect that information to be delivered to us, but we have found that method of doing business to be inadequate. DJI goes onsite to gather critical information and obtains answers to our clients' questions and concerns personally.
Our core value is the experience and expertise we bring to the table and we are able to use that experience and expertise much more efficiently when we are physically present to represent our clients' interests.
When DJI signs a exclusive agreement to buy or sell an aircraft for a client, we understand that we are committing to three, four, five or more trips to various locations in the course of providing the level of service that our customers have come to expect from us.
If we're not physically present, small issues can become large ones.  Key pieces of information can get missed or distorted and outcomes can be disastrous.
We recently received a Letter of Intent to purchase a Challenger 604. We traveled to St. Louis to review the records and review the modifications, which might include STCs (Supplemental Type Certificates) or Form 337 (the FAA form covering Major Repair and Alteration of the airframe, powerplant, propeller or avionics).   We also took about 70 photos of the aircraft with our own camera and uploaded them to a secure area of our website where our client could view them.  We work with professional photographers when selling an aircraft and certainly respect their art and craft, but when we are purchasing an aircraft we need to be sure that we are not relying on their professional photographs.  Sometimes the professional photography included with an aircraft listing is three or four years old, and may show lustrous paint and an elegant interior that do not reflect the current reality accurately.
We are onboard for every flight (test flights, and/or flights to the pre-buy facility and to the delivery location)
At the pre-buy facility, we insist on an initial meeting with the facility program manager and any other stakeholders to indicate our (and our clients') particular concerns and questions. Since the pre-buy inspection could take several days to several weeks, DJI wants to ensure that the major concerns are evaluated as soon as possible to save everyone time and effort.   Because of our experience, we have found that setting these expectations at the beginning of the inspection process will prevent "deal killers" (such as missing logbooks or major corrosion) from being revealed in the final days of the inspection after everyone is invested in the transaction.
We are back on site for the conclusion of the inspection and onboard for the delivery flight.   We ensure that all of the delivery and closing requirements are met, that the aircraft is delivered in a tax-friendly state (with advise from a tax attorney), that we purchase fuel and keep the receipt as documentation and that all of the required documents are check-listed, packaged, and delivered to our new owner.
DJI invests the time and money to be present at every critical juncture, and that practice has certainly  paid off for us.  The last 3 years have  been the best in our 19 year history, not because of the economy, but because our clients have come to rely on this level of service from us.
Brad Harris
Brad Harris is founder and CEO of Dallas Jet International. Mr. Harris holds a Bachelor of Science Degree in Professional Aviation and Airway Science and a Masters Degree in human resources from Louisiana Tech University. Mr. Harris entered the aviation industry in 1989 as a corporate pilot for a Fortune 500 corporation. In 1993, he started a successful aircraft leasing and renting company which expanded to a successful aircraft management company in 1995. In 1993, Mr. Harris began his aircraft sales career and, in a very rapid fashion, became one of the most highly respected aircraft brokers in the World. In 1998, Mr. Harris started an aircraft sales, consulting, and brokerage company that is known today as Dallas Jet International. Mr. Harris is a current airline transport pilot who is type-rated in ten (10) different jet aircraft including the Gulfstream 550, 450, 350, GV, GIV, GIII, GII, Hawker 125, Falcon 10, Citation 550/500, Beechjet 400, 400A, Lockheed Jetstar II, Diamond Jet and King Air 300/350. In the many different aircraft markets, Mr. Harris parlays extensive hands-on knowledge and experience into clear results for his clientele. In addition to Mr. Harris maintaining a career focus on aircraft sales, he also has extensive experience in aviation consulting and management. Included on his client list are several clients for whom Mr. Harris and his firm have set up flight departments, consisting of aircraft crewing, aircraft management, aircraft maintenance and aircraft operating budgets. He and the firm are currently managing a Gulfstream V, a Gulfstream IV, a Falcon 50, a Citation II, a Citation ISP, a Citation Mustang, a Hawker 400XP, and two King Air 350's.What most people do not know about Mr. Harris is that he possesses significant entrepreneurial experience in real estate and commercial insurance. This business experience, combined with his unparalleled experience in all facets of corporate aviation, has been the foundation of success for Dallas Jet International and its clients.