We're seeing that the aircraft sales market is improving, at least for some aircraft, as evidenced by the number of transactions we're completing at DJI. Improvement has been particularly dramatic in the first quarter of this year, especially since the first two quarters of each year are traditionally slower – there is generally a push of transactions in the last quarter of each year.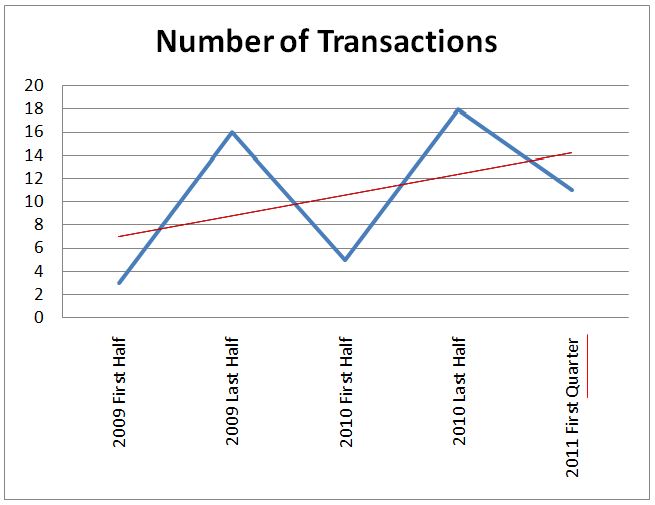 You can see from the chart that first quarter sales for 2011 have eclipsed the first half year in the previous two years.  The trend line displayed is conservative, since the last period reported is a quarter rather than a half year. Other brokers are reporting similar results.
This is a good sign indicating aircraft values will improve as surplus inventory is sold. Buyers are back in the game, but they are being selective.  Demand is improving most for large cabin aircraft that are well-equipped, low time, and newer than 10 years old.   Demand for small to mid-cabin and older aircraft remains flat to slightly appreciating. Demand is still depreciating for aircraft older than 20 years that are higher time and less well-equipped.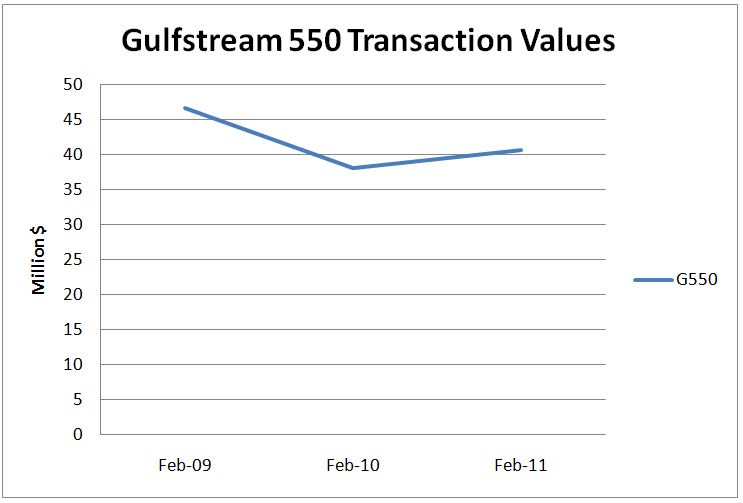 A Gulfstream 550 is a newer, large-cabin aircraft.  We saw the values dip in 2010 and then begin to recover in 2011 as pictured above.
This chart shows the continued (but possibly reducing rate of) decline of values of mid-sized, older aircraft.  The Hawker 800XPs on the market tend to be in the range of 10 years old or so, and Falcon 50s were made until 1996 (replaced by the Falcon 50EX) and are therefore at least 15 years old.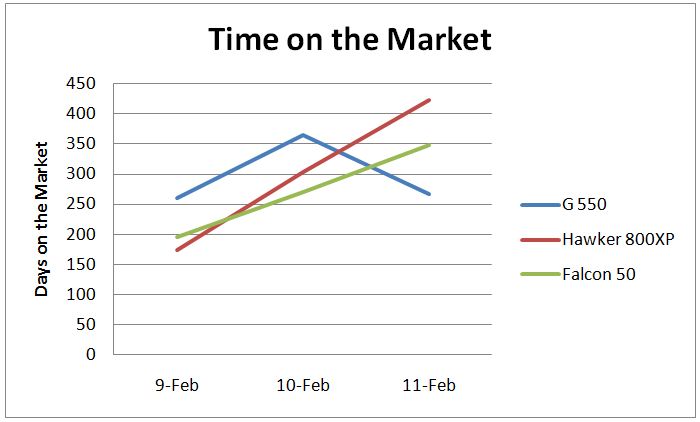 Again, we see that larger, newer aircraft are spending less time on the market than mid-sized older models.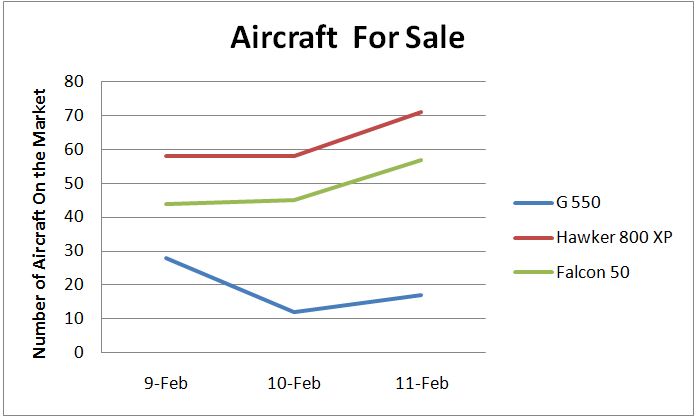 We see owners re-entering the market, up from a low in 2010.  While demand will continue to strengthen for large, new aircraft, we suspect that prices will remain low for the smaller, older aircraft for the near future due to the increasing number of aircraft entering the market.
Of course, you don't always have a choice of when to buy or sell an aircraft. The market is one of many factors you need to consider, as well as your business transportation needs, budget, cash flow and other timing considerations.  We use extensive, custom research to make the most successful transaction possible out of every aircraft purchase or sale.
If you have the option, now is a great time to sell if you have a larger, newer, better–equipped aircraft.   Now is a great time to buy if you're looking for a mid-size or smaller cabin, older aircraft.
Brad Harris
Brad Harris is founder and CEO of Dallas Jet International. Mr. Harris holds a Bachelor of Science Degree in Professional Aviation and Airway Science and a Masters Degree in human resources from Louisiana Tech University. Mr. Harris entered the aviation industry in 1989 as a corporate pilot for a Fortune 500 corporation. In 1993, he started a successful aircraft leasing and renting company which expanded to a successful aircraft management company in 1995. In 1993, Mr. Harris began his aircraft sales career and, in a very rapid fashion, became one of the most highly respected aircraft brokers in the World. In 1998, Mr. Harris started an aircraft sales, consulting, and brokerage company that is known today as Dallas Jet International. Mr. Harris is a current airline transport pilot who is type-rated in ten (10) different jet aircraft including the Gulfstream 550, 450, 350, GV, GIV, GIII, GII, Hawker 125, Falcon 10, Citation 550/500, Beechjet 400, 400A, Lockheed Jetstar II, Diamond Jet and King Air 300/350. In the many different aircraft markets, Mr. Harris parlays extensive hands-on knowledge and experience into clear results for his clientele. In addition to Mr. Harris maintaining a career focus on aircraft sales, he also has extensive experience in aviation consulting and management. Included on his client list are several clients for whom Mr. Harris and his firm have set up flight departments, consisting of aircraft crewing, aircraft management, aircraft maintenance and aircraft operating budgets. He and the firm are currently managing a Gulfstream V, a Gulfstream IV, a Falcon 50, a Citation II, a Citation ISP, a Citation Mustang, a Hawker 400XP, and two King Air 350's.What most people do not know about Mr. Harris is that he possesses significant entrepreneurial experience in real estate and commercial insurance. This business experience, combined with his unparalleled experience in all facets of corporate aviation, has been the foundation of success for Dallas Jet International and its clients.