Almost all aircraft sales professionals tell you that they perform "due diligence" to help the aircraft seller get the very best possible outcome for the transaction.
And yet, few of these brokers or consultants will tell you what this "due diligence" is composed of!
Briefly outlined, this is the process we use at Dallas Jet International (DJI.)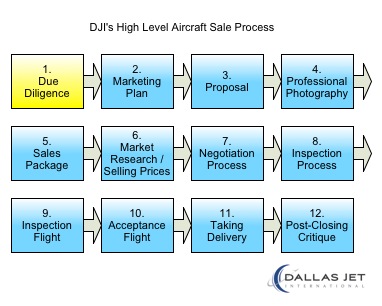 Keep in mind that Due Diligence is the first in the twelve major steps in our Aircraft Sales Process. Each of the twelve steps includes numerous additional items. Download Anatomy of an Aircraft Sale for a high-level overview of the entire process. Some of these high-level processes include over a hundred steps.
Initial Conversation
Of course, every seller has a different situation. The objective of our initial discussion is to ensure we have a good understanding of our client's objectives. Questions we will ask may include:
How did you hear about us?
What are your objectives for the sale?
Do you have any needs or preferences regarding the timeframe for this sale?
Is it your intention to trade, upgrade, or sell the aircraft outright?
What are your financial expectations or needs for this sale?
Aircraft Questionnaire
We work with you and your team to complete a detailed questionnaire that includes the following items to name a few:
Budget
Range requirement
Runways utilized
Luggage requirements
Aircraft equipment
Aircraft maintenance cycles and history
Aircraft engine status
Damage history of records
Completeness of records
Inspection status
Ownership history
Regions of operations
Passenger requirements
STCs (FAA Supplemental Type Certificates, for any modifications)
337s (FAA Form 337 – Major Repair & Alteration Documents)
Every transaction involves balancing certain priorities. As an example, if a sale must take place quickly, that reduces our negotiation options for obtaining the best price.
Our philosophy is that aircraft sales is more about people, priorities, and great communication than it is about airplanes!   It is only by taking the time to clearly understand our clients priorities that we can obtain the best results and their continued loyalty and referrals.
Investing the time at the beginning of this conversation saves us, our clients, and others in the industry significant time and frustration in the long run!
On-Site Visit
While many aircraft sales professionals do most of the work "virtually," DJI is committed to doing business in person. (Read more in this article.) Brad Harris, Shawn Dinning or Ralph Crosby visit every single airplane that we represent.
Our commitment to doing business in person is an important part of our reputation in the field. We have a more complete picture of the entire situation, and we can talk to prospective buyers and other professionals involved in the transaction from personal experience. We can speak from the position of having seen the airplane and verified all of the facts personally.
Research
In addition to seeing the aircraft personally, we also verify all of the facts, collect reports using several proprietary subscriptions, and use our experience from the hundreds of aircraft we have personally inspected, flown and sold over our many years of experience.
What's Next
DJI creates a world-class marketing package, including a very specific procedure for setting the best price and acquiring profession photographs that will be utilized and described in future articles.
Curious about how DJI's thorough Due Diligence process might make a significant difference to your situation? Give us a call at 815-520-4009 and let's talk about it!